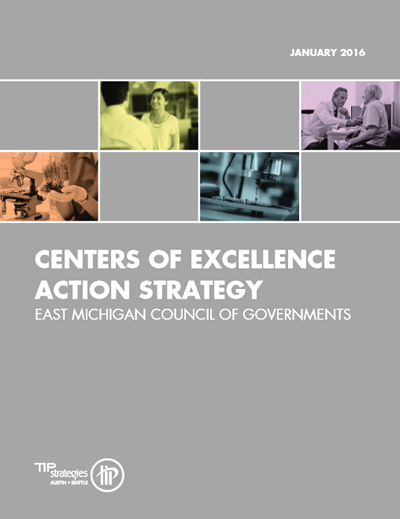 During the planning process for the Regional Prosperity Strategy completed in December 2014, a group of leaders in the 8-county East Central Michigan Prosperity Region (PR-5) galvanized support for the concept of creating a new regional asset to stimulate additional job growth and investment and to support the growth of existing companies. The East Michigan Council of Governments (EMCOG), the lead organization representing PR-5, re-engaged TIP Strategies, an economic development consulting firm based in Austin, Texas and Seattle, Washington, to assist with the development of this Centers of Excellence Action Strategy. With TIP's assistance and the guidance of a Task Force made up of more than a dozen of the region's academic and business leaders, EMCOG has developed this strategy document with immediate, short-term, and long-term actions to create Centers of Excellence that will move the region's economy forward along a path of sustained growth.
Centers of Excellence are typically a collaboration between higher education institutions and businesses, leveraging the unique assets found within a region to support the advancement of research or training within a specific industry or focus area. They often serve as a magnet for industry expertise and are dedicated to the success of companies within a region. They also provide leadership, recognition, best practices, research, support and/or training for entrepreneurs, as well as current and future employees within one or more industries
Three ingredients of successful Centers of Excellence are:
They are defined by a consortium or collaboration led by multiple colleges and universities.
They bring together higher education and industry, and often other groups (e.g., government and nonprofits).
They are focused on a specific area of research, a particular industry segment, or a solution to a narrowly defined problem.
The Centers of Excellence Action Strategy document describes four potential concepts for a Center of Excellence in East Central Michigan as identified by the Task Force:
Advanced Materials/Plastics: Explore waste heat to energy conversion and other products, processes, and technologies for the plastics manufacturing industry to spark innovation, cost savings, and the growth of a new industry cluster to support the region's manufacturing sector.
Agriculture/Craft Breweries: Pursue agri-tech entrepreneurship and innovation to support the growing craft breweries industry, potentially including shared processing facilities to serve multiple businesses across the region.
Health Sciences: Align the region's health care industry, workforce training efforts, and health sciences innovation programs to improve urban and rural community health.
International Workforce: Enhance the experience for international students through better connections to the region and its businesses, efforts to align workforce training programs, and marketing to international communities.
For more information: