What is the Regional Prosperity Initiative?
The Regional Prosperity Initiative (RPI) is a voluntary competitive grant process signed into law as part of Governor Snyder's FY2014 budget. It encourages local private, public and non-profit partners to create vibrant regional economies by identifying regionally aligned strategies, goals, objectives and/or projects for the State of Michigan to support. The initiative also streamlines the alignment of state departments and delivery of state department services based on the new regional configurations. By formalizing a collaborative relationship among local and regional partners this will allow the state, as well as private and non-profit stakeholders, to recognize local efforts and work in closer collaboration with local and regional decision makers throughout the state to support their efforts for economic prosperity.
East Central Michigan Prosperity Region 5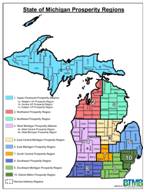 The State identified an 8-county East Central Michigan Prosperity Region that includes the counties of Arenac, Bay, Clare, Gladwin, Gratiot, Isabella, Midland and Saginaw. This 8-county Prosperity Region is within the 14-county East Michigan Council of Governments (EMCOG) federal U.S. Department of Commerce, Economic Development District. The 8-county region is known as the East Central Michigan Prosperity Region 5 or ECM PR-5).
Regional Prosperity Plan
The Regional Prosperity Initiative requires development of a five year Regional Prosperity Plan to include strategies on collaboration, community and economic development, workforce development and adult education.
Find Out More About the Regional Prosperity Plan
Partners
Business and non-profit representatives as well as representatives from local and regional economic development organizations, transportation, local government, workforce boards, adult education providers and the higher education community. A Strategic Management Team was created as a Tier 1 Collaborative. This team has met on a monthly basis to work together to support and implement the Regional Prosperity Strategy.
More information about the program can be found at www.michigan.gov/regionalprosperity
Please contact Jane Fitzpatrick, EMCOG's RPI Project Manager at 989-797-0800 or jfitzpatrick@emcog.org for more information about the East Central Michigan Prosperity Region 5.